Harvesting grain crops is an intensive process that involves planning, skill and the use of advanced machinery.  In order to effectively farm many of the grains we find in Canada including Wheat, barley, and Canola, a Canadian Farmer will require several pieces of equipment:
Swather for Cutting and Drying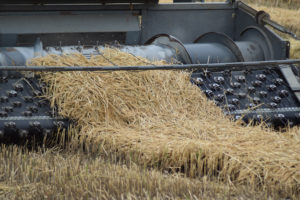 In Canada, where we have a short growing season, farmers often use a swather to harvest wheat. This piece of machinery is necessary when a grain does not have enough time to dry before harvesting. The swather cuts the stems of the plant and forms a  windrow, which is a uniform row of cut small grain crop left to dry before combining or further harvesting. Farmers who own combines that aren't equipped to reap, or cut, the crop often use swathers.
A Combine is Essential to Grain Farming
The combine is the central part of the harvest. A combine "combines" the 3 harvest tasks: reaping, binding, and threshing. Combines have removable, crop-specific heads so that they can be used to harvest many types of crops. A combine can often hold a large amount of wheat, but when it fills up, it needs to be emptied before the machine can continue.
A Grain Truck to Transport the Harvest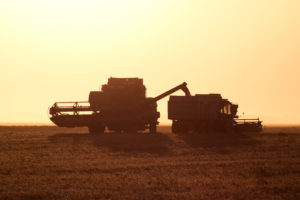 Grain trucks transport the crop from the fields to the storage facility. A Grain truck is animportant piece of machinery that works alongside the combine allowing grain to be transferred quickly and efficiently. The truck can then transport grain from the field to storage units or shipping points. Grain trucks work best when equipped with large, specialized wheels to provide the traction required to move through the fields.
Grain Augers
When the grain arrives at the storage facility, a grain auger moves the grain into storage containers. An auger is a motorized, rotating, spiral shaft similar to a drill bit sometimes encased in metal tubing. It works like a pump for grain moving grain into or out of storage. Most augers are powered by a tractor or combine.
Grain Dryer for Straight Cut Crops
When a farmer skips swathing, or the crop still has a high moisture content a grain dryer can be used to dry the crop to an acceptable moisture level, which is usually below 12% for long-term storage. These stationary machines use energy to heat and blow air over and through the crop in order to speed drying and reduce spoilage.
Bins and Storage Units
Bins and silos are used to store grain. Metal or concrete bins or silos are covered structuresdesigned to aerate and continue to dry the grain. Proper Storage is a must, as improperly stored grains can quickly spoil. Grain elevators and bins are often designed to move the grain in order to facilitate even drying.
The Right Equipment is Key to a Farm's Success
The right harvesting equipment can help raise efficiency and keep the property in top shape. Farming equipment costs can be substantial, and it's important to take advantage of all sources of funding available to your farm. Whatever you decide: Buying new or used equipment will be a key to your on-farm success. Start or expand your farming business now: Farm Grants  can help.