Greenhouses are an important way to grow crops outside of the usual growing season and a great way to increase yields. Canada has a unique climate, and as such special care is required when establishing a greenhouse, large or small that will produce a good return for the owner.
Windows
Light is required to grow any plant, so choose a material that lets lots of light through. A good rule of thumb is a material that allows at least 70% of light through. Insulation performance will drop as transparency increases. It's important to balance light transmission with the R-value (the thermal resistance) of the material.
Insulation
Many greenhouses are transparent on all sides. A cold climate greenhouse may not be fully transparent because conserving heat is a priority. Winter nights are dark and cold and temperatures need to be managed.
Installing windows on the side facing the sun, allows the other sides and the roof to be insulated. The ground underneath the greenhouse should also be insulated. The heat that collects in the earth during the day, shouldn't be allowed to just disappear out into the ground. The windows themselves can be insulated with removable shades after dark.
Ventilation
Cold climate greenhouses are designed to provide optimal growing conditions during the winter.  As a result, they can get too hot in the summer. It's important to install proper ventilation into the greenhouse that provides enough ventilation during those hot summer days.
Thermal Mass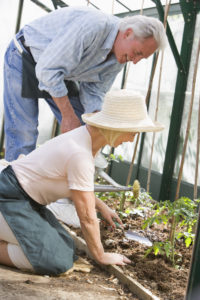 Thermal mass will harvest and store the warmth of the sun during the day and release it back at night to heat the greenhouse. This minimizes temperature fluctuations in the greenhouse and will prevent the temperature from dropping during cold nights.
Common materials can provide thermal mass: water, stone, cob, or even the earth itself. Water can be a risky choice because it can freeze, but it's also one of the most flexible thermal mass materials because you can easily add or remove containers fo water.
There are two ways to take advantage of thermal mass: heating the air or heating the growing beds. The energy required is lower to heat only the growing beds but can be harder to install or modify.
Active Heating
In addition to thermal mass distributing heat, and the rays of the sun working to heat a greenhouse during the day, on cold days and during the night your greenhouse may require additional heat. Often Wood burning solutions or propane heaters can be good choices, as they are equally easy to install in remote areas.
Cost
Commercial scale greenhouses are not cheap to build. A solar panel system can have a payback time of years. A four-season greenhouse should be similar in terms of payback time.  Long-term production yield will be higher, as the greenhouse allows longer growing season but also a kind of insurance against weather risks.
When you are ready to expand your greenhouse business or start a new agricultural production facility,
Farm Grants can help.