The trade-offs of new versus used farming equipment remain a hot topic for many in the farming community. What everyone can agree upon, however, is that in order to succeed in the business of farming, you need to have access to the right equipment, and it needs to get the job done in a reliable and predictable way.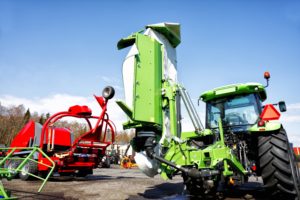 Here are a few reasons to considering purchasing new vs used equipment for your farm:
Reasons to buy New Equipment:

There are many reasons that you should consider buying new equipment. Some  reasons to buy new include:
If you plan to keep the equipment for a long time: new equipment may offer a longer lifespan.
If you plan to trade in yearly: Some operations need the latest technology. Buy buying new, you can make sure you are running the latest technology, and when something better comes along, your equipment will retain value to act as a trade-in.
Less likelihood of a breakdown – In most cases, new equipment is more reliable than used equipment. When it does break, you can count on warranty service to get you back up and running quickly, and on budget.
Reasons to Buy Used Equipment:
When buying new isn't the right choice, buying used can fit the bill.
Lower up-front cost – You can take advantage of the great deals on almost new equipment that other farmers traded in. Sometimes you can buy almost new equipment that is at a better price.
Used equipment has wiggle room – Used equipment prices are more flexible. Negotiation can make a good deal great.
Good for back-up machines – Having a second piece of equipment to take over in case your main equipment breaks can be invaluable. This also can alow an increase in production during crunch times.
Whatever you decide: Buying new or used equipment will be a key to your on-farm success. Start or expand your farming business now: the Canadian Grants Business Center can help.
Contact us Toll-Free at 1-888-231-0075 or Contact us now to find out more!